VGD 1.5 b28! Такого еще не было!
Welcome to Bugsoft Perm!
I like to see you, guest
!
Hope you'll find there what do you want to find and enjoy my programs.
Bugsoft motto is "It's not a bug, this is a feature" and I hope, that
this features won't damage your computer and your mind.
Я рад видеть тебя здесь, гость
!
Надеюсь, ты найдешь здесь то, что искал и скачаешь мои программы.
Девиз Bugsoft: "Это не баг, это - фича" и я надеюсь, что эти фичи
не повредят твой компьютер и мозги.
Today Features:
Bugsoft ASCII logo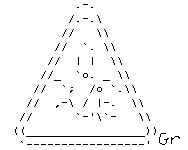 Alternative e-mail
grue@mail.ru
bugsoft@here.is
Alternative URL:
http://bugsoft.da.ru
http://attend.to/bs
Real: http://grue3.tripod.com/bugsoft
My private page - grue3.tripod.com
(ascii-art collection and a whole lot more)